I met Vicki in 2010 when I went to see if she could make a custom suicide strap with my name on the back for my duty Sam Browne. After visiting with her and husband, Vicki said she had all she needed to get started and would give me a call. That was the first suicide strap she built for a New Mexico State Police officer.
Fast forward 7 years and a 100+ straps, here I sit writing this statement and I am wearing an entire Sam Browne built by Vicki. This isn't any normal Sam Browne like the department issues us, this a true testament to what Vicki is capable of. After numerous visits and viewing many different patterns, I finally came to a decision. The outcome is the most beautiful Floral Carved Sam Browne you have ever laid eyes on. Every piece of this rig has been hand cut by Vicki in eye catching floral. The compliments I receive for my Sam Browne never end and never get old. I'm proud to brag about my friend's abilities and encourage everyone to call her for their custom ideas and needs.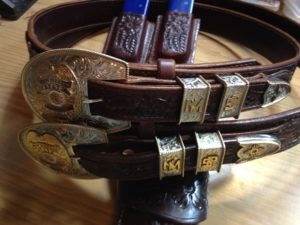 The most recent creation of mine from Vicki is a Ranger belt set, something so unique and distinct that I don't think it will be ever duplicated. We started with 2 custom Ranger Buckle sets made for me by a prisoner in the Huntsville prison. These beautiful buckles show that talent can be found in the least expected places. They display my service to the State of New Mexico by including a highly detailed copy of our departments badge, our collar markings, and a Zia symbol. Next, Vicki and I sat and again went through many different styles of floral carving. Vicki likes a challenge, always something harder than the last. Then one day I found it: an old worn holster with a really unique Old World floral pattern. Bingo! This was it. I called Vicki, and a short time later I delivered the old holster. Time ticked by and snow started to fall. Then the cold and the wind, and then I got the call it was ready. Vicki delivered the most outstanding looking rig your heart could desire. Two Ranger belts, one for the pants and the other as a gun belt. A matching holster perfectly fit to house my 1911, and two magazine pouches to round it all out.
Vicki is an outstanding leather worker and artist. What she is capable of turning a plain piece of leather into is truly amazing. I've enjoyed all the projects we have worked on together immensely. The joy of the process is just as rewarding as wearing the final product. I'm truly proud to call her my friend.
Now time to think up that next project…
Sergeant Thomas Lewis
New Mexico State Police